Lincoln Firefighters Union raising funds for Breast Cancer Patients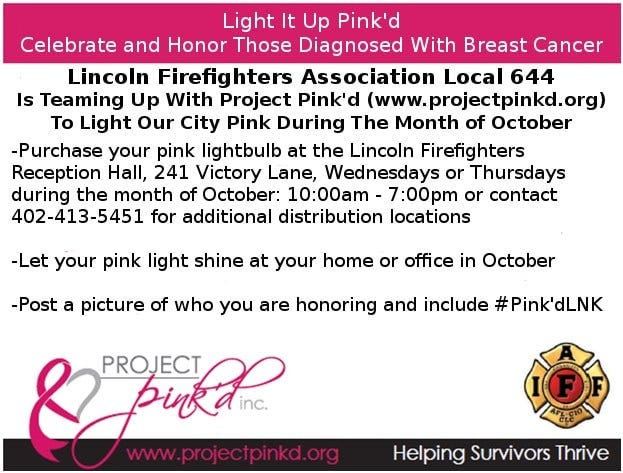 Posted By: Bayley Bischof Channel 8 Eyewitness News
Throughout October the Lincoln Firefighters Union is selling pink light bulbs for a local breast cancer charity.
"The campaign that we're bringing to Lincoln is Light Up Pink and we want people to take a pink light bulb and put it in their home or office," Ron Trouba, president of the union said.
Along with the light bulbs, they're wearing pink shirts and hats all in support of breast cancer awareness month.
But also in support of Project Pink'd, a local group who will receive all the proceeds.
"We really like partnering with them because they're a local organization which keeps all of our contributions here local. They provide physical, emotional and financial support to those who have been diagnosed with breast cancer," Trouba said.
For the firefighters, it's important to give back and even better to get the whole community involved.
"It's an easy way for you to show your support. It's involved in the community in Lincoln and its something that the Lincoln Firefighters Union is proud to be a part of," Trouba said.
You can buy the light bulbs every Wednesday and Thursday in October from 10am– 7pm for $10.
They'll be at the Firefighters Reception Hall off of West O Street.