Lincoln Marathon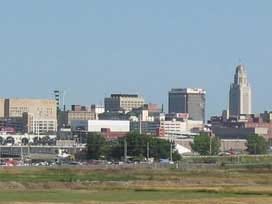 Nebraska's largest marathon is now in the books. Thousands of runners took part in the Lincoln, National Guard Marathon Sunday morning and for one of the winners, the victory was extra special.
Shoes tied. Muscles loose. The runners, all 8,000 of them, faced the challenge ahead.
"Basically my goal is to run the entire thing and have fun while doing it."
"I'm just wanting to finish strong and feel good at the finish."
The largest Lincoln marathon to date, took runners from all over the country, through the city.
Near 14th and Harrison streets, hundreds of onlookers paved the way, handing out water and cheering everyone on.
Something Carla Lasley says was extra special, "this is my family home this is where I grew up and every year we meet here and cheer on the runners its just fun."
For some, it was a 13 mile journey, for others it was 26 miles.but for everyone it ended for the first time on the 50 yard line at memorial stadium.
This year's full marathon winners both from out of state. Matt Hoit finished in 2 hours, 38 minutes and 45 seconds. Ann Marie Chappell did it in 2 hours 45 minutes and 28 seconds. Times neither of them will forget, especially Chappell, who now qualifies to compete in the Olympic trials.
"It feels amazing it feels incredible I've wanted to do a marathon for so long this is probably the one goal I've had to work the hardest just to get to the starting line and then finish it," Chappell said.
"It feels good I mean this is a great atmosphere the city really comes out and supports this event this is my 3rd time here and 2nd last year and come back to see if I could win it and it worked out," Hoit said.