Lincoln Memorial Park honors veterans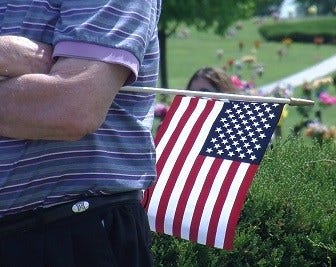 Posted By: Camila Orti
corti@klkntv.com
"Freedom is not free," words to think about on Memorial Day Monday.
Hundreds of people gathered at Lincoln Memorial Park in South Lincoln to honor and remember fallen veterans. Organizers estimate more than 250 people were in attendance.
This year, a dramatic entrance kicked off the Memorial Day service, as the American Legion Riders brought in the flag.
"It was a great honor to be bringing that flag into this ceremony, I mean I just, I was walking on cloud 9 when I climbed off my bike," Commander Ed Reinhardt with the American Legion Riders said.
Veteran Ed Hoffman with the Lincoln Memorial Day Observance Association helped organize the event. He's been speaking at this particular service for more than 20 years.
"Every time I speak about veterans in general, how we shouldn't forget them, I get choked up, I get really choked up," Hoffman said.
He says he still carries painful memories from his time serving in the Navy in Vietnam.
"Death was every day, every day," Hoffman said.
Monday's program included several firing squads, guest speakers and the official folding of the flag, all to pay tribute to those who lost their lives while serving.
"It's just important that basically everyone knows that and I'd like to teach our kids the importance of that," Doug Sindelar of Lincoln said.
"They gave us our freedoms that we got today, if it weren't for our soldiers we wouldn't be able to do the things that we're doing today," added Reinhardt.