Lincoln Police are looking for two good Samaritans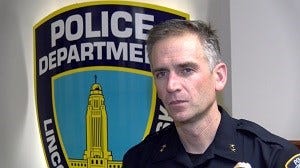 Posted by: Marlene Thornton
mthornton@klkntv.com
A unique situation happened near the intersection at 9th and O street this past Sunday.
Two bold individuals helped an officer in need and now Lincoln Police are looking to find out who they were.
Police said they intervened when they saw an officer on the ground struggling with 34–year–old Jima Sikeyo, but the good Samaritans walked away before LPD could learn their identity.
So now, Lincoln Police Chief Jeff Bliemeister is asking for them to come forward.
"We recognize this is a rarity. It isn't something that happens every day and we want to make sure publicly acknowledge these individuals," Lincoln Police Chief Jeff Bliemeister said.
So far, there have been 58 assaults on police officers in Lincoln this year.
There were nine last month.
The department said the numbers are fairly consistent to past years.
Chief Bliemeister said there's a lot of perceived risks about the job, but one attack on an officer is still one too many.
"That doesn't mean that anyone should take an opportunity to try to injure an officer who's attempting to do their job," he said.
LPD still needs the two helpers' assistance to complete the investigation. Plus, it also formally honors brave citizens.
So, it's asking those good Samaritans to please make themselves be known.
"It's very courageous. We're thankful for their invention and we truly appreciate it," Bliemeister said.
If you any know anything about this situation, please call the police department at 402-441–6000.