UPDATE: Lincoln Police make a second arrest in Union Bank Robbery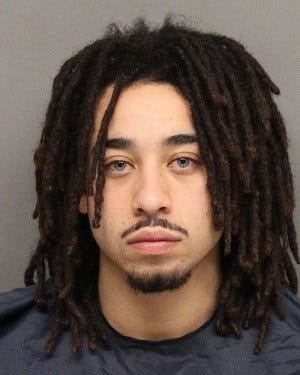 Posted by: Marlenia Thornton
mthornton@klkntv.com
UPDATE:
The second suspect in the December 28, 2016 robbery at Union Bank & Trust, 6801 O Street, has been arrested. Shawn T. Brooks, 25 years of age, was contacted by Lincoln Police Department as he was walking in the 2600 block of West O Street. During the robbery investigation, Brooks was developed as a suspect through his association with Marcus K. Remus. Remus was arrested in Omaha on January 4, 2017.
This afternoon, at 1:30 p.m., Shawn T. Brooks was lodged at the Lancaster County Adult Detention Facility and issued a citation for Robbery. The Lincoln Police Department continues to investigate the level of involvement both men have in other recent robberies. Additional charges are possible.
_____________________________________________________________________________________________________________
Lincoln Police tracked down 19–year–old Marcus Remus of Omaha Wednesday.
He was arrested for robbing the Union Bank at 68th and O streets.
Police said two suspects walked into the bank on December 28th and one was armed.
Officers said they don't believe Remus was the one who fired two shots, one in the ceiling, one into a TV
LPD said some good police work led them to Remus.
" Through analysis of this physical evidence tying him to particularly to that bank robbery," Lincoln Police Chief Jeff Bliemeister said.
Police think this case is connected to the U–Stop robbery on West O street that happened earlier that week.
At this point, they aren't linking Remus to that robbery or others in the city.
Investigators are confident though from this evidence gained from this arrest and other information. They'll be able to piece these together.
"The investigative elements our agency is continuing work on this particular case to tie these together," Bliemeister said.
The second person is still on the loose.
There's also a reward for more than $17,000 available for the arrest and conviction of that suspect.
The Nebraska Bankers Association and Whitehead Oil are offering it.
The association said it's trying to help bring peace to employees by getting these robbers off the streets with this incentive.
"That's part of the reason were so diligent and we're just wanting to get the bad guys behind bars and provide a safe and secure environment for our members to do business," Nebraska Bankers Association Richard Baier said.
LPD is encouraging people to contact them with any tips.
You can call Crime Stoppers at 402-475-3600 or submit them the website lincolncrimestoppers.com.
__________________________________________________________________________________________________________________________
Posted by: Channel 8 Eyewitness News
8@klkntv.com
Lincoln Police arrested 19-year-old Marcus Remus in connection to the Union Bank Robbery at 68th and O street Wednesday night.
Police said two suspects entered the bank and demanded money on December 28.
They don't believe Remus fired two warning shots inside.
Police said the two suspects did get away with some cash.
LPD is still looking for the other person involved.
The Nebraska Banker's Association and Whitehead Oil are offering a collective reward of $17,500 for information leading to the suspect's arrest and conviction. People are encouraging people to submit tips via CrimeStoppers, 402.475.3600 or lincolncrimestoppers.com.
Hear more about this story on Channel 8 Eyewitness News at 11, 5, 6 and 10.