Police release photos of bank robbers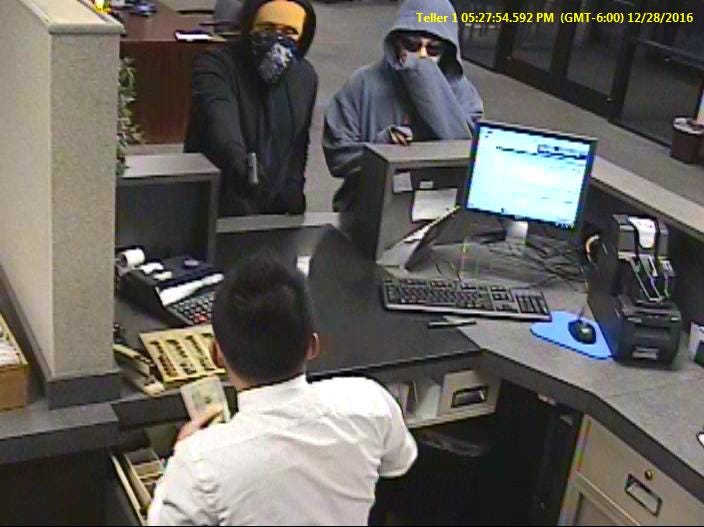 Posted by: Channel 8 Eyewitness News
8@klkntv.com
An armed robbery happened at Union Bank in Lincoln Wednesday evening. It was the branch near 68th and O Streets. Police are searching for two men. They're described as Hispanic or white males. The man in black is said to be about 5′ 10" and the other man is a few inches shorter. They may also have red dye on their hands or clothes.
"A red dye pack was successfully placed in the money that the suspects left with, it did explode, so once again asking citizens if you maybe are aware of somebody that has some red on them that you think could be related please contact the Lincoln Police Department," said Sgt. Randy Clark.
Only one of the suspects was armed.
"Two individuals entered – one displaying a firearm, fired the firearm relatively immediately, and the other individual received cash from one of the tellers," said Sgt. Jake Dilsaver.
Two shots were fired in the bank. Officers believe they were warning shots, one went into the ceiling and one struck a TV.
"My speculation is, just to let the teller know they were serious; adds a little bit more to the threat involved with the robbery and gains, probably in their minds, compliance a lot quicker," said Sgt. Clark.
No one was hurt, but the suspects did get away with an undisclosed amount of cash.
Police believe this might be connected to an armed robbery on Monday. It happened just before 10 P.M. at the U–Stop on 110th and West O Street. This incident also involved two men, one with a handgun and only one shot was fired.
"This is the 1st time a gun has ever been discharged in one of our stores," said U-Stop owner, Mark Whitehead.
Police are still searching for the suspects involved in both armed robberies.
If you have any information on the men involved please contact the Lincoln Police Department.
______________________________________________________________________________________________________
Lincoln Police need your help to identify two men who they think are responsible for the Union Bank and Trust robbery.
They released surveillance photos of the suspects Thursday.
Police said the two robbed the bank near 68th and O streets around 5:30 p.m. Wednesday.
They said one suspect was armed and fired two warning shots. One was into the ceiling and the other into a TV. No one was injured.
Officers said the robbers got away with some cash.
LPD believe this robbery is connected to the armed robbery that happened near 1st and West O Streets Monday.