Lincoln Police search for child enticement suspect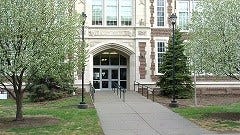 By: Jenn Schanz
jschanz@klkntv.com
A quick–thinking 8–year–old avoided serious danger Tuesday. The Elliott Elementary student was outside with his class around 3:30, when a strange man approached him.
Police say the suspect was in a blue, 4–door sedan with a red side, and some white on it. They say he spoke Spanish to the little boy, who is bilingual, and asked him to get into his car.
But the boy recognized the danger, and quickly ran to tell his teacher.
"He did the right thing, he immediately got away from the situation and told a trusted adult, that allowed police to get into the area right away," says Officer Katie Flood of the Lincoln Police Department.
Just a week earlier, a Hill Elementary student was targeted too. Police say the female student was grabbed on a bike trail near the school, but also managed to get away.
Lincoln Public School officials say they start safety training early on.
"We definitely use some safety steps in our preschool classrooms about making sure you get away from that unsafe person as fast as you can, and we practice that with them," says Carrie Erks, Preschool Social Worker for LPS.
She hopes their safety rules will keep their students out of danger.
"We just keep reinforcing that so hopefully with the practice and reinforcement it sticks," she says.
Lincoln Police say there have been several abduction attempts in the past year, but the law has buckled down on offenders.
It used to only be illegal to lure a child into your vehicle, but in 2011, the Child Enticement Law was expanded.
It's now a felony to attempt to entice a child to any place, including bushes, trails, or alleys.

Lincoln Police are still searching for Tuesday's suspect. They say he's a Spanish speaking male with short hair, and again, driving a blue 4–door sedan with a red door, with some white on it.
If you have any information that can help, you're urged to call CrimeStoppers at 402-475-3600.