Lincoln Police to hold third Gun Amnesty Day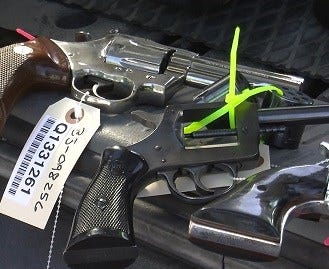 By: Newsroom
8@klkntv.com
People who have any unwanted firearms or ammunition have a chance to get rid of them free and clear.
The third Gun Amnesty Day will be held in Lincoln on Saturday, May 10th from 11-1:30 p.m. It will be in the NeighborWorks Lincoln parking lot near 23rd and Q Streets.

Lincoln Police officer Melissa Ripley came up with the idea last year.
"Anything that gets turned into us is one less that's on the street that could end up in the wrong hands that could be used in a violent crime," Ripley said.

Lincoln's first Gun Amnesty Day took place in the spring of 2013, the second was last fall. Ripley says combining both events, officers collected 70 guns and close to 24,000 rounds of ammunition.
"We've had everything from plastic BB guns to, we've had a brand new gun that was turned in," Ripley said.
Everything is accepted, legal or illegal, no questions asked.
"When we said it was anonymous we meant it was anonymous, so there's no tricks, no hidden recorders or anything like that," Ripley said.
The process is simple: drive in, drop off, drive away.

"We prefer that they come unloaded but if you're not comfortable unloading or handling the weapons, we'll take care of that for you," Officer Melissa Ripley said.

Ripley says firearms should be transported in the trunk or backseat of your vehicle in an open box or bag. The officers on site will handle the rest.
Before the guns are melted down, they are run through a database to determine if they were stolen. The State Patrol Crime Lab also does testing to see if any firearms can be connected to a crime.

No compensation will be given for any firearms turned in.