Lincoln Prepares for Game Day Traffic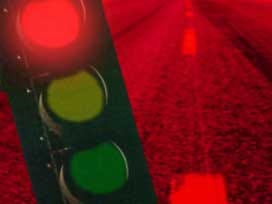 By: Ian Hest
ihest@klkntv.com
Traffic on game day is always a pain for drivers around Memorial Stadium, but officials this year have installed a new plan for handling the high volume.
Game day traffic is always difficult, but this year officials have reduced the amount of street construction around Memorial Stadium on game days. Come this Saturday, the only expected ongoing construction is left lane closures on 10th Street between "L" and "P."
To ease congestion, roundabouts were installed connecting 10th Street and Salt Creek Parkway. Director of Public Works and Utilities, Greg MacLean, says they were the perfect solution.
"In this particular situation, we had two very difficult intersections with Salt Creek Parkway and we needed to handle that and a traditional signalized intersection just really wouldn't work very well. It's very difficult to get those synchronized and work correctly. Roundabouts were actually a great solution to handle the traffic and they're self regulating," said MacLean.
So what do you do when you approach one? MacLean has some easy tips. First, slow down as you get close. Don't stop unless there is a car in front of you or a car passing through the roundabout. Look left for incoming traffic. When there's an opening, enter the roundabout and don't stop moving once you're inside Then exit on the right when you reach where you want to go.
Sounds easy. right?MacLean agrees and it's why he expects things to run smoother on Saturdays. "I think there will be a little bit of congestion. It shouldn't be too significant. Just like for people, if they plan ahead, arrive early, get downtown and enjoy game day activities and stick around afterwards for that matter."
MacLean says there will be a traffic control officer present this Saturday but that's just for precautionary measures. He says people will be surprised at how easy the roundabouts actually are.