Lincoln Public Schools, Parents address school safety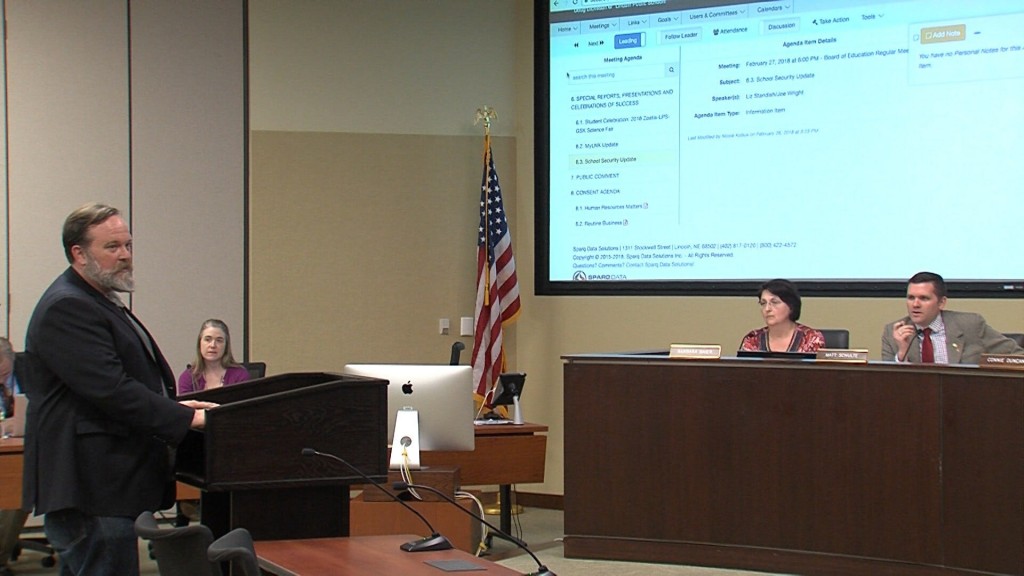 School safety took center stage at the Lincoln Public Schools board meeting Tuesday.
In light of recent school shootings, especially the one that claimed 17 lives in Parkland, Fla., dozens of parents addressed LPS board members – striking a conversation in hopes of better protecting their children while they're at school.
"School shootings are a part of our life right now," Korey Reiman, an LPS parent, said. "We all get that right but this one, it was different."
Parents addressed concerns they have about school security. Among them, adding more lockdown drills, security cameras and doors in all schools, more security officers and better communication between the schools and parents.
"I think clearly there's some issues around communication," parent Eric Buchanan said. "It would be helpful for people to know this is actually what the district is doing."
Joe Folmer, who has four of his five children enrolled in LPS schools, agreed.
"This is not something that I'm okay with just letting go and hope nothing happens because Lincoln's safe," he said. "Yeah Lincoln is safe but so are a lot of other places where this has happened.
That conversation, board members say, isn't falling on deaf ears.
"This board needs to have broader conversations on schools in the district," board member Don Mayhew said after the public forum Tuesday.
Superintendent Steve Joel said security at schools is the one thing that keeps him up at night.
"This is going to be the biggest and most important work we've ever done," he told the room full of parents at the LPS District Office.
After the forum, board member Larry Boswell tasked each LPS board committee with reviewing best practices, varying from how to financially plan for additional security measures, to how to streamline each school, so that they are all safe.
Joel also said Tuesday, the school board is going to have a special meeting soon with city emergency officials and the city council to make sure the community is doing everything it can do to keep children safe.
One thing that is already happening, according to some parents, is Lincoln Police's presence near school grounds. A group of parents met with Chief Jeff Bliemeister on Monday, and those parents say they have already noticed more law enforcement around schools.