Lincoln Race Course celebrates Kentucky Derby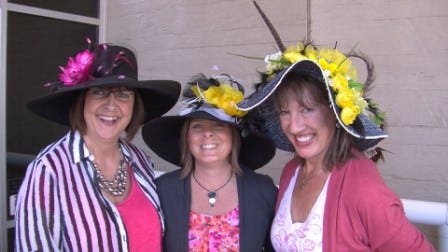 By: Lauren Fabrizi
lfabrizi@klkntv.com
Lincoln is a far cry from Churchill Downs, but that didn't stop about a thousand people from celebrating the Kentucky Derby here in the capital city.
Hundreds packed the Lincoln Race Course all decked out to watch and bet on the races.
This is the first year the new race course has celebrated the Kentucky Derby, offering people a wide menu of food and drinks, 36 stations to place bets and more than 200 TVs to watch from.
"What a beautiful day, great crowd, great atmosphere," Lowell Eisenhauer of Beatrice said.
"Kentucky Derby is part of our family history," David Tinius of Lincoln said. "I thought I'd bring my son out here to continue on the tradition."
"This goes to show people still love the sport, it's not a dying sport," Christy Harris of the race course said. "People came and watched, and we hope to not only turn that around for not only the country, but Nebraska especially."
There was also a derby hat contest. First, second and third place winners won race course vouchers, t-shirts and other small items.