Lincoln teens learn the distractions while driving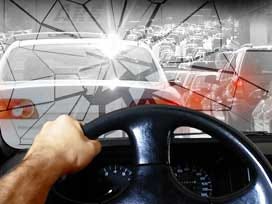 By: Rachel Witter
rwitter@klkntv.com
Car crashes are the number one killer of teens, and distracted driving just adds to the statistic. Students at North Star High School found out just how dangerous it really is.
This week concludes National Teen Driver Safety Week. The goal is to raise awareness of teen vehicle crashes. Students got behind the wheel of SIDNE, or Simulated Impaired Driving Experience. State Farm partnered with the Nebraska Safety Council, giving an eye-opening experience for area high-schoolers.
The simulator, controlled by a remote as a person drives it, runs in two modes, normal and impaired. In impaired mode, the vehicle has delayed steering, braking and acceleration, simulating the effects of alcohol or being distracted.
Of all reported crashes involving a cell phone, teens were a part of 24 percent of those in the state of Nebraska. "The biggest claim we see for the use of cell phones is rear-ending people, and it's usually a pretty good sized accident. Usually, there's an injury involved and damage to the front end of the vehicle and the rear end of the vehicle is hit," said State Farm Agent, John Curry.
Cell phones aren't the only distraction. Some students say passengers can have the same effect. "Doing random things like singing or throwing food around in my car, doing the whole, 'Hey look, yellow car… two points, bam thing," said a student at North Star.
It's not just teens who are behind the wheel and texting, it's their parents too. 61 percent of parents who are teaching their kids how to drive are actually texting, while they're teaching. A sobering lesson learned by these students, the program hopes to influence high schoolers across Nebraska to put the phone down, and keep their eyes on the road.
State Farm offers resources for parents teaching their kids how to drive, so they can understand what driving safe really means.