Lincoln toddler defies odds, gets prosthetic legs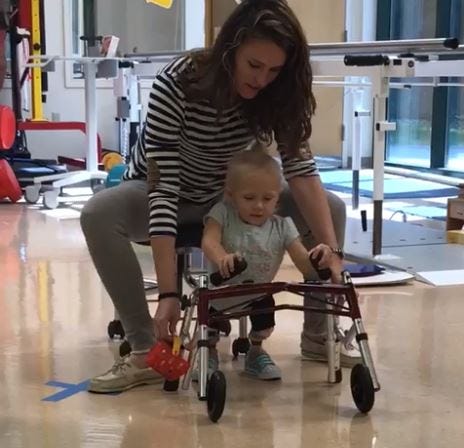 You've met Emberlyn Grace before.
She's little girl with a big smile, and a rare condition called caudal regression syndrome. It left her paralyzed from the waist down.
Her parents, Joanie Hemmer and Josh Kennell made the tough decision to amputate her legs in May 2015 when Emberlyn was 10 months old.
Fast forward to today. September 5th, 2017.
Emberlyn Grace is stepping up to her mom's challenge, walking with her new prosthetic legs on the driveway of her Lincoln home.
"It was overwhelming," Joanie said. "It was a shock, a dream come true, something I thought would never ever happen."
Emberlyn, affectionately known as Emmy, had a spinal consultation at Shriners Hospital in Minneapolis last July.
When doctors decided Emmy didn't need spinal surgery yet, Joanie asked if there was a way to make something so that Emmy could wear shoes.
And that's when the dream of getting prosthetics for 3–year–old Emberlyn Grace became a reality.
"I started crying it was the best feeling in the world," Joanie said. "It was overwhelming. I had no idea this would ever come about."
Emmy, mom and big sister Ellyna went back to Minneapolis to get Emmy's new legs last week.
After 4 days of intense therapy, the toddler took her first steps in shoes made for a girl who's ready to defy all odds.
"I just want [Ellyna and Emberlyn] to look back and look at the words 'I can' and not 'I can't,'" Joanie said. "There's so many times Emberlyn says 'mommy I can't, mommy I can't,' and I look at her and say no Emmy, you're going to do it.
Proof that with a big support system, a whole lot of love and people who believe, this little girl is ready to walk miles in her own shoes.
Follow Emberlyn's journey on Facebook.