Lincoln woman warns of dognappers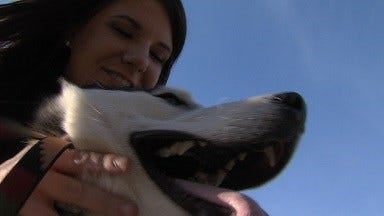 By: Jenn Hatcher
jhatcher@klkntv.com
A Lincoln woman says someone tried to steal her dog while they were at a local dog park.
She was able to stop the thieves in their tracks but she wants you to be on the look out.
Sunday, Katie Herrunzie took her pup, Floyd, to Richman's Dog Park by Holmes Lake.
The Siberian Husky was running free, when an unknown man and woman put him on their leash and started walking towards the exit.
"It's a scary feeling," says Herrunzie, who watched the whole thing happen.
She ran the couple down and asked for an explanation.
"She just said that it was running around and they didn't know who the owner was," explains Herrunzie.
Herrenzie says she was watching her one–year–old dog the whole time and the couple never asked whose dog it was.
She also finds it strange they had a spare leash.
That's why she's warning other dog owners.
Herrunzie says, "I don't want this to happen to someone else and go through the feelings I was."
She did contact police but by that time the two were long gone and nothing could be done.