UPDATE: Lincoln woman wins $1,000 shopping spree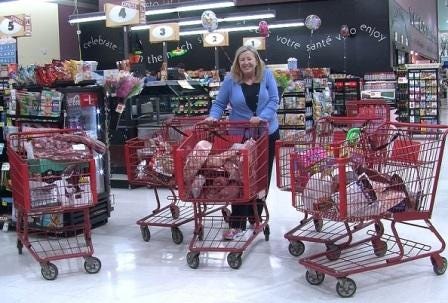 By: KLKN Newsroom
8@klkntv.com
One-thousand dollars, three minutes, several empty shopping carts and as many groceries as you can grab.
That's what Cheryl Brandenburgh got to do Tuesday morning at Russ's Market near 33rd and Hwy 2.
"Three minutes I think will go way fast," Brandenburgh said.
She won the opportunity for the grocery grab through a raffle drawing from the Lincoln South Rotary. It's the second year of the fundraiser and hundreds of tickets were sold. Cheryl found out she was the big winner and came to the store ahead of time to scope out what items she wanted most.
"We'll go through the meat, come down through the coffee, I'm a big coffee drinker and then go into the laundry detergent aisle."
And she did just that piling dozens of pounds of meat, a Keurig, coffee and cleaning supplies into her carts.
"When we check them out, if it starts getting close to $1,000 then they have to pick and choose what else to check out next because there is a limit of $1,000," Coordinator Nicki Klein said.
There were a couple rules like no alcohol, tobacco or gift cards, but everything else was up for grabs.
In the end, Brandenburgh had five carts full totaling more than $2,000.
"Oh it was amazing," Brandenburgh said. "Time went so fast until the last three seconds which they kind of drug out a little bit for me but I didn't really need a lot of help at that point in time. But I was tired."
Brandenburgh did have to put back the extra $1,000 worth since she went over the limit.
All the money raised from the raffle will go to organizations that help out the Lincoln community.