Lincoln's own Women's March draws thousands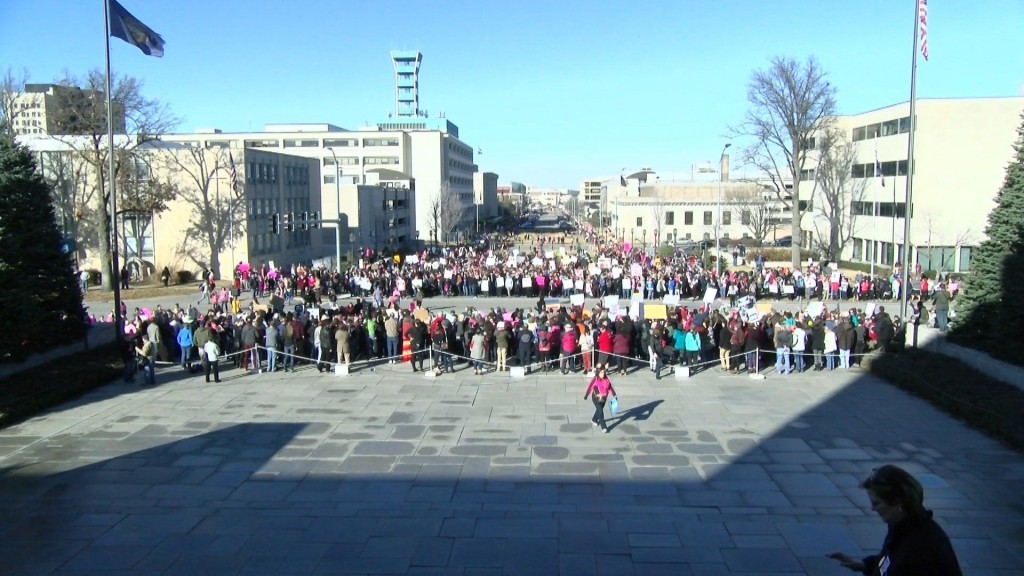 Posted By: Kelsey Murphy
8@klkntv.com
"Show me what democracy looks like; this is what democracy looks like," Crowds chanted.
Women with signs in their hands, and messages to be heard
"Women right are human rights"
Say they have a fight to continue. They battled for it outside the State Capitol Saturday afternoon.
"Everybody here has their own issues, there heartfelt issues, that affect their lives directly. But, there are many that are similar; black lives matter, LGBTQ rights that we have gained in the last eight years, those matter. We don't what to go backwards with women's rights," Christa Yoakum, event coordinator, said.
Dating back to the late 1800's, women have battled for equality and justice.
From the first Seneca Falls Convention, to woman's suffrage, and reproductive rights, women have proved their strong will to speak up.
Years later, some are fearful that the their progressive actions are slowing fading and equality hasn't been achieved.
On Saturday, grandmothers, mothers holding their infants tightly, and husbands, brothers and sons walking along side the women in their lives, marched to the State Capitol.
They join other major cities such as Chicago, NY, and Washington to stand up in protest to President Trump and promote women's rights, immigration reform, and LGBTQ rights, and to address racial inequities.
"I hope for a change of tone and demonstration that Trump and his subordinates will take their job as leaders of all Americans really seriously," Julia Reilly, protester, said.
"They are not making the same amount of money we do on a daily basis, they are not getting health care with the new health care setting them apart," Scott Svoboda, protester, said.
They hope that this peaceful display will draw attention to important issues.
"I don't understand how so many people can be okay with getting rid of Obamacare when it is keeping people alive," Charissa Mamsey, protester, said.
Several thousand people were in attendance this afternoon.