UPDATE: 6 Lincoln city council candidates advance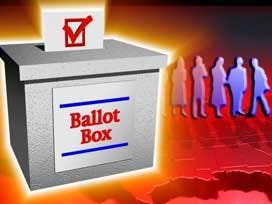 By: Megan Palera
mpalera@klkntv.com
The ballots have been cast and the votes counted for Lincoln's primary election. Of the eight races, only one candidate did not advance to the general election next month.
It was slow and even slower at some Lincoln polls Tuesday. Voter turnout was only expected to hit between 13-15% – that's about 20,000 votes.
On the ballot were four school board seats and one airport authority seat. Those races were uncontested so all the candidates advanced. Also up for grabs were three at large city council seats. Seven names were listed and these six advanced to the general election in May: Roy Christensen, Leirion Gaylor Baird, Eugene Carroll, Mark Whitehead, Meg Mikolajczyk and Trent Fellers.
We caught up with two of them and asked, are they surprised more didn't run?
"That's very disappointing. I'd like to see a little more excitement out there in the community about the people that are gonna set the tax rates and establish the codes and laws that kind of govern our lives," Roy Christensen said.
"People realize that the city is really doing really well and there's not a lot of change needed as we're going forward for the next four years," Eugene Carroll said.
Lincoln and Omaha are the only two cities in Nebraska that hold regular elections during odd-numbered years. The move hasn't helped voter turnout and the city still has to pay for it – between $135 and $150,000. So is it worth it? Or should Lincoln align with the rest of the state and national elections?
"I would like to see them align that way. Maybe you don't have as much chance to focus on individual candidates, but for such a small election I think turnout would be better," Kathy Samuelson said.
"To me, just the political system and the way it works, I think each person is important. Even if there are just a few issues, I think at this time in our history people need to really decide what they want and act on it," John Cummings said.
Lincoln's general election is set for May 7th. The city council list will then we narrowed down to just three.