Lindsey Graham Drops Out of Presidential Race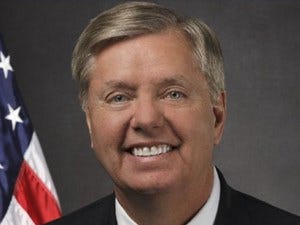 By: KLKN Newsroom
8@klkntv.com
Courtesy: ABC News
Republican presidential candidate Lindsey Graham is dropping out of the 2016 race for the White House.
The South Carolina senator, who revealed the news in a CNN interview Monday morning, is the fourth GOP contender to drop out of the race, following Texas Gov. Rick Perry, Wisconsin Gov. Scott Walker and Louisiana Gov. Bobby Jindahl. The move leaves 13 candidates remaining in the race for the Republican nod.
"I must suspend my campaign," he said. "I'm not going to suspend my desire to help the country. I'll probably go back to Iraq and Afghanistan and get another update. 36 trips has informed me. But the one thing I feel really good about is I did it with a smile on my face. I talked about things that are important to me and somebody better fix one day."
Graham had been included in the undercard debates during his campaign, struggling to garner any significant support in national or early state polls.
"I have offered a detailed plan to win a war we cannot afford to lose and to turn back the tide of isolationism that has been rising in the Republican Party," said Graham, whose campaign for the presidency lasted 204 days. "I believe we made enormous progress in this effort."
"I'm far more confident today that our party will reject the Obama doctrine of leading from behind and will provide the strong leadership America needs," he continued.
In a statement, Graham's close friend Arizona Sen. John McCain expressed his thanks for Graham's bid. "It is a pity that a bifurcated debate structure kept his voice and views from the wider public that needed to hear them," he said. "With Senator Lindsey Graham's announcement, Republicans lost our most qualified, thoughtful, fearless and honest presidential candidate, not to mention the candidate with the best (and it seemed sometimes the only) sense of humor."
Other candidates expressed their thanks to Graham on Twitter for running in race.
Click the link to learn more:
http://abcnews.go.com/Politics/lindsey-graham-drops-2016-republican-presidential-race/story?id=35886305