Local brewery wants to bring Robber's Cave back to life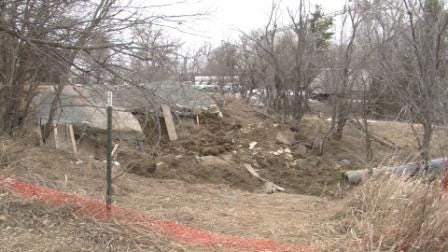 By: Lauren Fabrizi
lfabrizi@klkntv.com
Blue Blood Brewing Co. has been in southwest Lincoln for just three years, but is already looking to move.
For that, owner Brian Podwinski goes back nearly 150 years to Robber's Cave. Legend has it bandits like Jesse James used it as a hide out and bootleggers stored their beer there.
Podwinski is a former Lincoln Police officer, but ironically the brewery's new line is called 'Outlaw.' He said that's what makes it an appealing move.
"It's such a unique piece of Lincoln history," Podwinski said. "And the rumors that fly a long with Robber's Cave. We're really excited to bring that back."
The cave was sealed off in 2000 after it was repeatedly vandalized. About two weeks ago, engineers dug their way in and deemed it safe.
"There's carvings everywhere," contractor Sam Manzitto of Manzitto Bros. said. "We found three areas, three carvings dating back to the late 1800s."
Podwinski wants to use the cave to age beer. He'd store barrels inside. Next to the cave would be the actual brewery and a much bigger tap room than what he has now.
"There's actually a limestone area right underneath the ground," Manzitto said. "It's at the bottom of the staircase to the cave, and the tap room will be adjacent to it. And the brew house beyond that."
Manzitto said the cave needs a lot of clean-up. A passage way from the brewery down to the cave would be built, bringing to life again the dark and eerie past in a new light.
"We love to have a lot of fun," Podwinski said. "By having a place like that, we really feel we can expand on what we can do."
Podwinski has a purchase deal with the landowner. He estimates the project would cost about $1.5 million and is seeking tax increment financing. If approved by the city council, he'd break ground this spring.