Bullying victim's family wants new legislation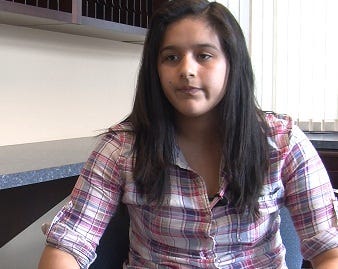 Posted By: Camila Orti
corti@klkntv.com
A 13-year-old girl's struggle with being bullied could lead to new anti-bullying legislation.
Frida Aguilera De la Torre is now scared every day she goes to school.
"She's still there, and there's some urge that I should just run," Frida said.
On January 15, the Irving Middle School eighth-grader was followed and then attacked by six of her classmates on her walk home.
It was all video-taped by one of the attackers on their cell phone. In the video, you can see Frida, in black jeans and a dark green top, being thrown to the ground and punched repeatedly in the face. It happened on the corner of S. 18th and South streets, a block away from Frida's home.
"She was shaking and she was saying the cars didn't stop, the cars didn't stop," Frida's mother Dolores De la Torre said. She says when she got home, Frida's face was bloody and bruised.
De la Torre says she knew she had to do something to prevent things like this from happening to her daughter, or anybody's child, ever again.
With the help of Inkelaar Law, the family is pushing to enact 'Frida's Law,' which could make bullying offenses much more serious.
"We have bullying laws here in Nebraska that deal with schools and anything that happens on school property, but they're not criminal offenses," Attorney Thomas Inkelaar said.
Inkelaar says the legislative draft is still in its beginning stages, but would define bullying, require bullying offenders to do counseling, classes and community service, and create both misdemeanor and felony options in bullying cases.
"We have to make sure our kids are safe, at school, after school, they have to be free to walk the streets and not be scared," De la Torre said.
Frida says she doesn't walk home from school anymore because of the incident.
The girl who was punching her will be charged with assault in juvenile court, according to the county attorney.
For more information on Frida's Law, click here.