Local church holds benefit for cancer patient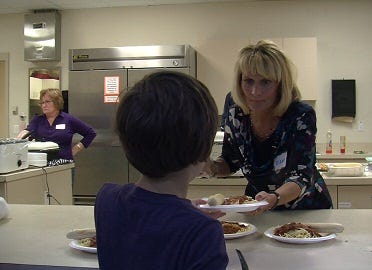 Posted By: Camila Orti
corti@klkntv.com
A local church community is rallying behind one of its members who was recently diagnosed with cancer.
More than 200 people came through First Lutheran Church Sunday to eat spaghetti and help raise money for a friend in need.
"I feel really loved," Ann Taylor of Lincoln said.
Taylor was diagnosed with melanoma that has now spread to her brain.
"I ended up having brain surgery on the 28th of September and was very lucky," Taylor said.
But the melanoma isn't gone, and as a single mom of two boys, Taylor says she's felt financial pressure before, but never like this. That's when friend Kristi Fisher stepped in.
"She really has been strong through all of this, I'm very proud of her," Fisher said.
Fisher helped organize a spaghetti feed to fundraise for Taylor. With the help of local church groups, she says more than $3,000 were donated at the event, funds that will help Taylor pay the hospital bills and support her family.
"This was a great turnout, and we sent mailings out to the church and told everyone her story and everyone has rallied around her," Fisher said.
Taylor says doctors have told her she only has five to six years left, but she's fighting for more with her youngest son, a ten-year-old, in mind.
"I'm hoping I can go past it, at least until he graduates high school," Taylor said.
Armed with the love of her friends and family, Taylor says she's reminded every day that she has nothing to fear.