Local church performs special Valentine's Day ceremonies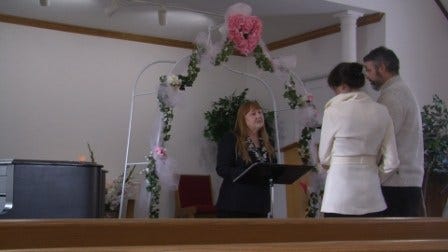 By: Lauren Fabrizi
lfabrizi@klkntv.com
Michael Callari and Allison Pier met five months ago at a wedding in New Jersey and instantly knew they were meant to be.
"Never been this in love in my life," Pier said smiling. "I didn't know it was possible, it's been pretty wonderful."
The two plan on getting married, so Callari wanted to make this Valentine's Day extra sweet. They committed their lives to each other at a special church ceremony Saturday afternoon, making their engagement public.
"A way to remember this Valentine's Day and Valentine's Days going forward," Callari said.
It's something Unity Lincoln near 31st and O Streets did for the first time. Couples had a chance to get married, commit to each other or renew their wedding vows.
Rev. Toni Stephens Coleman has only been with the church for about a year, but it's been her live–long dream to perform Valentine's Day ceremonies.
"This congregation, part of the reason they selected me was to become more creative," Stephens Coleman said. "To move into being who they truly are as expressions of their divinity."

The reverend touched the lives of five couples Saturday, taking one couple back 10 years as they renewed their vows.
"When you look at each other's eyes again, and you recommit and you hold hands," Kimberly Johnson said.
"It takes you back to your original wedding day," Dale, Kimberly's husband, added. "And rekindles the same spirits."
As for Callari and Pier, Pier's in the process of moving from New Jersey to Lincoln so the pair can officially begin their lives together.
"We're excited for what the future holds," Callari said.
The reverend hopes to make these ceremonies an annual tradition.