Local family turns negative into positive to help others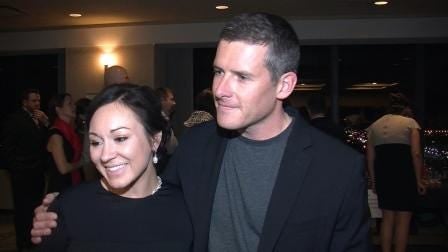 By: Lauren Fabrizi
lfabrizi@klkntv.com
Imagine taking a sip of a drink that's supposed to be bitter, but instead tastes sweet. With the drop of a special kind of berry, your taste buds are altered.
And, a sweet drink can soon become sour with the help of "buzz button" droplet.
"You can actually change how a drink tastes," a mixologist of Sterling Distribution said.
Perception. A theme that filled the Nebraska Club Saturday night.
Six months ago, Damon and Kendra Haifley lost their two–year–old daughter, Isabel, to an undiagnosed lung disease.
"It's hard to lose a child," Kendra said. "You grieve, you want to be sad, you want to crawl into a black hole and never come out of it. But you also have a choice to live, to smile, love and give back."
Again. Perception.
The family has since started the Warrior Princess Foundation in Isabel's name in hopes her legacy will live on.
But to help them heal, they're taking their efforts a step further. They want to help local families with children who have rare or undiagnosed diseases.
Saturday, they held a fundraiser to help raise money for those families. More than 100 people came out in support.
"It's wonderful to see they're turning their energy into something good," friend Miranda Watson said.
Through the event's silent auction, the Haifleys hope to raise $15,000. But right now, they're taking it one step at a time. They're currently helping one family with whatever needs that may arise.
"We want families to know we're here, we've been there, we understand," Kendra said. "And we're here to help them, hold their hand, guide them."
For more information on the Warrior Princess Foundation, click here.