Local gym does push-ups for a purpose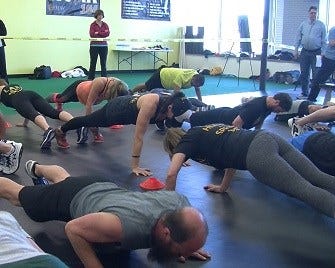 Posted By: Camila Orti
Capital City Fitness and Performance members were part of a worldwide effort to set a push-ups record for a good cause.
At 11:30 Sunday morning, 35 people cranked out as many push-ups as they could for a minute. They joined more than 100 gyms around the world in the effort. More importantly, those participating were encouraged to donate to the Tom Coughlin Jay Fund to help families battling childhood cancer. Capital City Fitness alone raised $1,400, organizers say.
"This fund really helps those families out, and you know it's a great thing to be a part of it and we're happy to help out," Owner Mike Bevard said.
For gym member Josh Weber, the issue is personal. His sister's baby was diagnosed with a rare form of blood cancer.
"It's been close to our family and very close to my heart so I wanted to do what I could to raise awareness and support the cause for other families who are going through the same thing," Weber said.
No updates yet on the total amount raised by the effort, or how many people were involved globally.