Local hardware store perseveres through tornado damage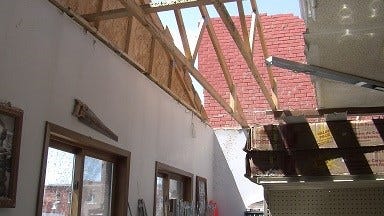 By: Andrew Ward
award@klkntv.com
It's been a hectic few days for those in beaver crossing, particularly for local businesses who were hit hard by Sunday's EF3 tornado.
When Kenny Pankoke went to his hardware store that night after waiting out the storm at his home in Beaver Crossing, he had no idea what to expect.
"It was a shock," Pankoke said. "The whole town not just a few here and there. There was debris everywhere."
Pankoke didn't sleep that night while at Beaver Hardware, spending the night cleaning up debris and putting up tarp to hold out the rain. That persistence paid off though as the store opened the next day at 6 a.m.
"My main objective is to keep everyone going," Pankoke said. "Get her cleaned up."
Those in Beaver Crossing appreciated Pankoke's efforts, as they now have a place to get tools and groceries. Beaver Hardware was one of the more popular stores in town before the tornado hit and now it's even more valuable.
"I can get anything I need," said Gary Epps, a local at Beaver Hardware.
"You name it, he's got it," said Connie Denton, a Beaver Crossing resident.
And with many other local businesses destroyed from the storm, beaver hardware remains a staple in a broken town.
"He's the backbone of this community as far as stores go," Denton said. "So many of them have closed down and he keeps it going. The town would be lost without him."