Local heroes recognized at Red Cross event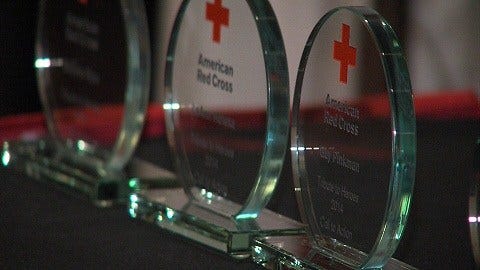 By: Brittany Paris
bparis@klkntv.com

It's amazing to see how many heroes we have right here in Lincoln and Lancaster county, people who truly have made a difference in others' lives.
It was an emotional night for LeAnn Holexa and Guy Pinkman as they accepted an award at Thursday's Tribute to Heroes Awards Dinner, hosted by the Red Cross at The Cornhukser Hotel.
"I feel good. It feels nice to be recognized. But I'm just a regular person. I don't think I did anything exceptional," Holexa said at the dinner.
But she did. She, along with Lincoln Fire and Rescue Captain, Guy Pinkman, pulled a drowning girl from a pool at a hotel they were at for a birthday party.
Holexa jumped in the pool and got the girl and Pinkman performed life-saving CPR.
"You know, a lot of people would do what I did and I just happened to be there at the time," Pinkman said.
Pinkman and Holexa were just two of several heroes recognized. Each one had the story told of why they were chosen to be a hero and they were called up to the stage to receive their award.
Channel 8's very own Vanessa Brown was emceeing the event.
This is the 13th year the Red Cross has honored heroes. It says the hardest part is narrowing down the several hundred nominations they receive to just a few.
"We had so many amazing and well deserving applicants. This is just a snap shot of the incredible things that are being done in our community," Liz Dorland, American Red Cross, said at the event.
At last year's dinner, the Red Cross raised more than $50,000. It hopes to raise even more this year.