Local Nigerian has hope for missing girls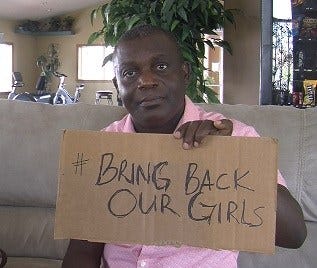 Posted By: Camila Orti
corti@klkntv.com
The search continues for the nearly 300 Nigerian girls that were kidnapped more than four weeks ago.
On April 14, 276 girls were taken from their school in the north Nigerian village of Chibok by Islamic militant group Boko Haram. The group's leader has threatened to sell the girls as slaves.
"Obviously it's a heartbreaking situation, outrageous situation," President Barack Obama said Tuesday.
The United States has sent in a 10-member military team to assist with the search, focusing on a large forest that's more than six times the size of Yellowstone National Park.
Local Nigerian Chief Edo Keniabarido is devastated. He's from a southern region far away from Chibok, but says the pain is felt by everyone from his country.
"We don't know where they are, whether they are feeding them or not, they could die," Keniabarido said.
He's felt a similar pain to the ones felt by parents currently missing a daughter. His mother was kidnapped, too, back in 2009. Keniabarido says officials found her blindfolded in a forest three weeks later.
"We are tired of this incident, killing, kidnapping, doing that and that, we are all tired," Keniabarido said.
But he has hope that with the rest of the world's help, the girls will be located.
"I believe these girls are somewhere, we are going to get them, but we need a strong strong security network and information," Keniabarido said.
The search effort has sparked a social media campaign, '# Bring Back Our Girls.' Even First Lady Michelle Obama tweeted her support.
Now, Keniabarido wants to show his.
"They should release these girls, these girls are innocent," he said.
Since the kidnapping, the Boko Haram group continue to wreak havoc on Nigeria, burning down villages and killing hundreds of people.