Local non-profit is helps teens prepare for school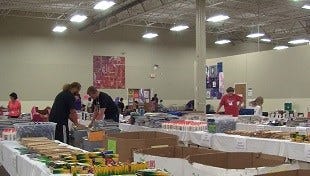 Posted by: Kelsey Murphy
kmurphy@klkntv.com
The first day of school is coming fast, but for one young girl it could not come fast enough.
"My favorite thing about the first day of school is getting to go to class because I like school a lot," says Marshawna Kapke, shopper.
Her older sister has another back to school favorite, shopping. For more than notebooks and folders.
"I like getting clothes and some shoes", says Haileigh Kapke, shopper.
They are items you won't find on a generic back to school list, but they are things students need.
"It's really just as important as having backpacks and other school supplies," says Chris Triebson, Public Relations Coordinator, Center for People in Need.
Lincoln's Center for People in Need wants to help teenage girls who may not be able to afford the latest trends.
The free shopping trip is an annual program for girls of low income families in grades six-12.
"What we want to do here is provide them with these goods, but we also want to provide them with that confidence and pride to go back to school," says Triebson.
They turned the center into a teenage girls dream. Packing the room full of clothes, makeup, beauty products and much more, and it's all for free.
"It helps them to be confident when they go to school with clothes that everyone got you know? And mascara for the bigger girls because they are teenagers now," says Jamie Kapke, Mom.
The teen day shopping event will continue on Monday from 1 to 7 pm.