Local officials cracking down on criminals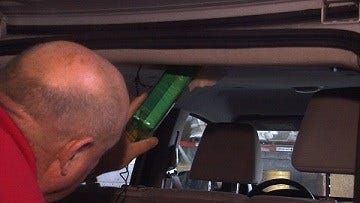 By: Brittany Paris
bparis@klkntv.com
We've heard it before, a traffic stop leads to a major drug bust, but what are they looking for?
Joe David started a training program in 1989. He was in law enforcement for 35 years and during his time on the roads, he says he's seen it all.
The program has come to Lincoln to help deputies in Nebraska identify and catch major criminals.
David encourages deputies to go out and conduct High Volume Traffic Stops.
"They make stop after stop after stop, public safety, public safety and when they come into something which isn't consistent with what they're used to, then they take a closer look at it," David said.
At the training, the different agencies are learning to identify major criminals who hide contraband in everyday things like propane tanks.
"The law enforcement officers are finding concealment in any place that you can possibly imagine on a vehicle," David said.
Fuel tanks, air bags, tool boxes. David even brought a few cars to Lincoln to show deputies where drug traffickers have stashed drugs, like a hidden compartment in the ceiling of a car or the space between the back seat and the trunk.
The Lancaster County Sheriff's Office is hosting the training.
Sheriff Terry Wagner says a tremendous amount of narcotics and money is going through the state on I-80.
Trainings like this help regular stops turn into major drug busts, like one from March.
"During the stop, they noticed the screws holding the dash in had been scratched up and marred and it signaled to them that further investigation needed. And it turned out that beneath that dash was 17 pounds of methamphetamine," Wagner said.
That stop took hundreds of thousands of dollars worth of drugs off the road.
The deputies are sitting through a total of 24 hours of class time. David says they're dealing with serious criminals who don't want to get caught.