Local officials remember Hurricane Katrina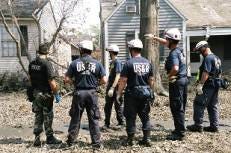 Posted by: Kelsey Murphy
kmurphy@klkntv.com
Nearly ten years ago the jazz and lively hood that flows through parts of the Gulf Coast took a pause.
Hurricane Katrina struck.
A category five storm responsible for miles of destruction.
"The most shocking was the amount of damage that was there, like I said , it was mile after mile of damage that we came across," says Steve Dolezal, Program Manager of Nebraska Task Force 1 Urban Search and Rescue.
Members of Lincoln's Urban Search and Rescue were called to the Gulf Coast only days after the storm hit.
"It's real humbling when you get down there and you see the total devastation, that peoples lives have been turned upside down and how bad that magnitude of storm really can be," says Dolezal.
The teams walked into piles of debris, streets full of water, and marked structures that used to be someone's home.
It's something they expected but it's always a little more intense when you see it in person.
"We saw boats thrown around like tinker toys on land and homes completely off their foundation," says Bob Watton, Logistics Manager, Urban Search and Rescue.
More of an impact were the people they met.
"Just how they look, there is a lot of desperation down there, people that hadn't eaten or hadn't had ice or water for days," says Watton.
Ten years later, Hurricane Katrina is still with the teams. Not the devastation, but the help they were able to offer.
"That's what you do this job for, being able to go out and help somebody that is hurting, that needs something, or to put a fire out, to pull somebody from a burning building, or to do something like that. Its kind of bread into us so we want to do it," says Dolezal.
Lincoln's Urban Search and Rescue Team is just one of three divisions in the Unites States. They were also deployed to help after 9–11, the Moore Oklahoma tornado and the Pilger tornadoes.