Local parents react to viral video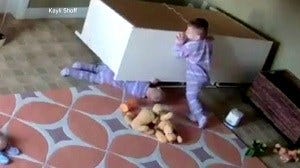 Posted by: Marlenia Thornton
mthornton@klkntv.com
A close call for some Utah parents is going viral.
In the video, two toddlers climb on a dresser before it falls and pins one.
Then the other boy pushes it off his brother to save him.
Lincoln Parents Mary and Corey Kruse have 1-year-old twins named Cole and Carter.
Kruse said the video caught her eye.
"First seeing it terrified me, that's always huge fear as parent," Mother Mary Kruse said.
The Kruse have already taken measures to keep their little boys safe.
They have baby gates on both level of their house.
They also have pieces of furniture anchored to prevent it from toppling over.
Watching the video, mom said it was too close to home.
"You're always concerned about your kids safety and how easily that can happen to them," Kruse said.
Mom and dad said the boys are getting to an age where they're climbing and pulling up on things.
The Kruses said they do pretty well baby proofing their home, but the areas that may be less safe, they keep their sons from getting in.
Mary said the video serves as a good reminder for parents to properly secure furniture.
"I don't want to take anything for granted and it's so easy to miss something like that and something like that happen so fast," Kruse said.
According Facebook, the father of the Utah toddlers shown in the video said his son is OK.
He too wants the video to be an awareness tool.