Local runner heading back for 3rd Boston Marathon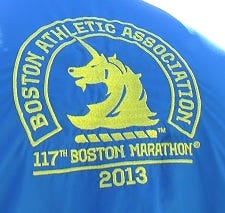 By: Bill Schammert
bschammert@klkntv.com
April 15th, 2013 is a day UNL sophomore Eddie Walters will never forget.
"It's not going down as a tragic day," he said. "It's a day that's going down as a day we proved ourselves better than what we thought."
Walters finished the Boston Marathon before the first bomb went off. He was below the finish line in a subway with his father when he was told to immediately exit. His mom was up on the street, waiting at the finish line for a family friend.
It would be a heart-racing hour before the three would reconnect, unsure if anyone had been injured from the blast. He describes the scene as chaotic, families searching for loved ones and others just trying to help.
Walters gave his blanket to a runner who was unable to finish.
"All she had was her running clothes on and it was cold and windy," he said. "I didn't need it anymore and she thanked me. A lot of people were handing out clothes and things like that."
Now on Saturday, he's ready to return to Boston. He said he never even thought twice about heading back for his third Marathon.
"Things aren't going to change just because two people decided to do something stupid," Walters said. "It doesn't change who I am, so I knew I would go back."
Walters has ran more than 700 miles since January to train for the event. He's hoping to break three hours and record a personal best.
But, this 118th Boston Marathon will be about more than just a stopwatch.
"You can't do anything to change the fact that this is the Boston Marathon and it's the greatest race there is. We're willing to go out and run 26.2 miles and you're not going to stop us."