Local runners returning to Boston Marathon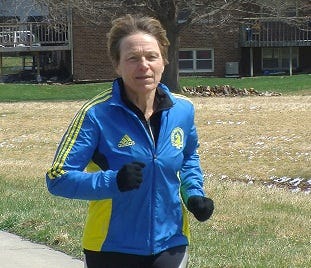 Posted By: Camila Orti
corti@klkntv.com
Some local runners returning to the Boston Marathon say they're preparing for an emotional race.
One year after the marathon bombing killed three people and injured more than 200 others, Mary Munter and Kris Rutford will join about 36,000 runners in the 118th Boston Marathon one week from Monday.
Munter says she's been thinking about the tragedy all year. She was just a couple minutes from the finish line when the first bomb went off. Munter wasn't able to finish the race.
"I had just finished mile 26, and I could see the smoke in the air and the ground really shook," Munter said.
It happened at 2:49 p.m., replacing cheers and applause at the finish line stretch with screams and white smoke.
"Nobody knew what it was, it was just total mass confusion," Munter said, "I sat on a curb and literally cried."
This year, she gets to go back and finish a marathon that now holds much more meaning.
"I know when I hit the spot where I was last year, it's gonna be very emotional for me and I'm just going to stop there for a minute, say a prayer, and run on in," Munter said.
She'll be running to benefit South Shore Hospital, one of many facilities that helped treat bombing victims.
"It's something that I feel I can give back to Boston," Munter said.
Kris Rutford agrees it will be an overwhelming day.
"I'm certainly going to have feelings even though I wasn't there," Rutford said.
He says the emotions surrounding April 15, 2013 will be felt by the entire running community.
"It's gonna be crazy, it's crazy in the first place but I think it'll just be a really emotional, fantastic day," Rutford said.
Last year's tragedy has led to heightened race security, including checkpoints and screenings for both runners and spectators.