Local salon treating women to Valentine's makeovers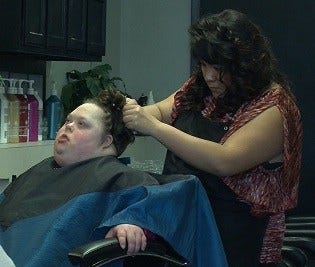 Posted By: Camila Orti
A local salon spread the Valentine's Day love a day early, treating several lucky women to complete makeovers.
Techniques Salon & Barbershop pulled out all the stops to make six women look and feel like movie stars.
"We've got photography going on, we've got prizes and h'ors d'ouvres, the ladies are super excited," owner of the salon, Janean Nelsen, said.
Nelsen says she wanted to show love to a group of people that she thinks doesn't get enough.
"I have a son with special needs so I kind of thought, over the years we've done hundreds of hair-do's for proms and homecomings, unfortunately we don't get to do a lot of ladies with special needs," Nelsen said.
Nelsen says all the women were nominated by other clients or people in the community. They each have varying degrees of special needs, and range in age from 15 to 50.
After her look was completed, Cynthia Robison said she feels like a new woman.
"I look 20 years younger," she said.
She and her roommate Kathleen both were previous clients of Nelsen's, but were excited to get the extra pampering. Techniques employees say they had a blast, and plan to do the event again next year.