Local Veterans Honored for Acts of Valor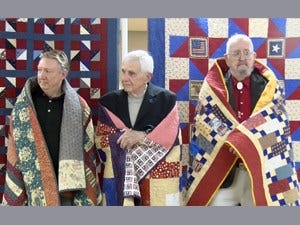 Posted By: Kelsey Murphy
kmurphy@klkntv.com
"Thank you for your service, welcome home," Julia Schroeder, Quilts of Valor leader, said.
"Welcome home" and "thank you" they're two words Vietnam War Veteran Wayne Fetterley says he didn't hear returning from his last deployment in 1969.
"We didn't get welcomed home. We got rotten eggs and tomatoes and we couldn't get to our families," Wayne Fetterley, Vietnam Veteran, said.
On Saturday, he felt welcomed, he felt loved, and he felt the comfort of a warm quilt wrapped around his shoulders.
"Please give him his quilting hug"
Lincoln's Quilts of Valor started in 2008. Women create individualized quilts for active service men and women and veterans, then present them once a month.
"They are always like "oh thank, you thank you", but, you know, it's us thanking them and that's the special deal," Quilter, said.
In return for the men and women who sacrifice their lives for our country; these women sew.
Every thread, and each hand picked piece of fabric is put together with love, prayers and healing thoughts.
"Everyone is touched by war," Schroeder, said.
"A quilt is a comfort to them, they can wrap up in it, maybe shed a tear when no one is around, and it's a piece of love from our community to theirs," Vicky Skuodas, quilter, said.
Like the mean and women receiving theses quilts, each one carries with it a different story, a different pattern.
Yet one thing doesn't change. On the back of each is a stitched name tag listing the individual honored and the quilter who sewed her gratitude into it.
If you would like to nominate someone for a quilt; visit their website. http://www.qovf.org/