Local woman racking up dog agility awards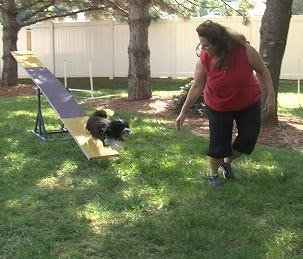 Posted By: Camila Orti
Most people take their dogs on a walk and call it a day.
One Lincoln woman is taking an alternative approach to exercise, and racking up national titles along the way.
Lee Loomis Marshall decided to let her dogs try agility competitions a couple years ago. Turns out, 2-year-old Bling and 8-year-old Diamond, both Havanese, were naturals. In the little time they've been competing, both furry friends have become national champions.
"I was just amazed and never would dream I could get a house dog like this to do something like this," Marshall said.
Marshall says she was shocked at how quickly her dogs picked the sport up, and how quickly she became addicted.
"You do this together and you're learning it together so it's just a lot of fun," she said.
In most agility competitions, dogs are completing a course that consists of several jumps, a teeter-totter, a tunnel and weave poles. The dog with the fastest time wins. But even if you're not willing to put in hours and hours of training like Marshall and her pooches, Marshall says it's still a great way to exercise with your dog.
"Just about anybody can do this," Marshall said.
The basics are treats and positive reinforcement, Marshall says, plus a strong obedience background.
"You might have to repeat a lot, keep working with people that you're confident in that you trust and just keep working at it," she said.
Marshall and Bling will be competing against about a hundred other dogs at the American Kennel Club Agility Trial next weekend. It is being held at the Lancaster Event Center.