Local women promote gun safety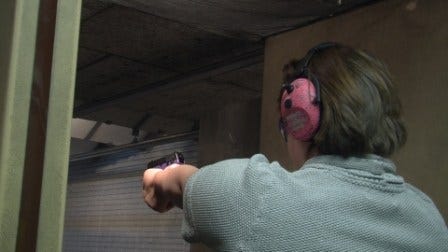 By: Lauren Fabrizi
lfabrizi@klkntv.com
Julie Delp has been around guns her entire life. Her family is big on hunting, and the shooting range is a place she heads to often.
"It's firearms versus fashion shows for me," Delp said. "I really enjoy firearms. For me, I like that element."
But Delp knows for some women, going to the shooting range can be a little intimidating when there's a lot of men around. That's why she and Heather Mitchell, as well as a few other women, have started a shooting group in Lincoln for women only that will meet at Thunder Alley Indoor Shooting Range.
"They can come, they can learn in an atmosphere with other women," Mitchell said.
"Intimidation isn't something we want to see," Randy Lauer, the owner of Thunder Alley, said. "We want to see a comfortable environment for everybody to come shoot and have fun."
It's a national organization called The Well Armed Woman and it aims to "educate, equip and empower women." Started two years back in Arizona, there's now nearly 5,000 women nation wide who make up 181 chapters in 42 different states.
Here in Lincoln, the chapter is just getting started. With just 6 members, Delp and Mitchell are doing everything they can to get the word out.
Whether shooting is a hobby, or if it's for learning protection, ladies will have a chance to shoot in a women–friendly environment. Delp and Mitchell will teach members things like proper gun handling and gun cleaning for an hour, then everyone will hit the range for another hour.

Meetings will be held the third Thursday of every month.
"I think it's going to be phenomenal in Lincoln," Delp said. "I think it's really something that the women have been looking for, and now they can come find us."
The general interest meeting will be Thursday, May 8, at 7 p.m. at Thunder Alley Indoor Shooting Range. Monthly meetings will begin the following Thursday.
For more information or if you'd like to join, click here.