LPD have bank robber in custody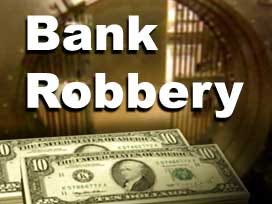 A Lincoln bank was robbed in broad daylight Monday morning with dozens of people nearby. The suspect is already behind bars. It happened right inside the Super Saver on Highway 2… There's actually a US Bank inside the store. That's where a woman slipped a teller a note, demanding money.
"I started getting closer and saw 5 cars line up, 5 police cars and figured something big happened," Matt Strasberger said.
And he was right. Something big was happening at his neighborhood grocery store near 56th and Highway 2. At 9:15 police got a call that the US bank inside was being robbed. That a woman had come up to the counter and handed the teller a note. "Just a note that essentially said it was a hold up and to hand over the money," Captain Jim Davidsaver said.
The teller followed the woman's directions. Handing over an undisclosed amount of cash. And waited until the suspect left to alert police. "That's what bank employees are instructed to do. Whenever you're dealing with a robber you never have an idea what his or her motive may be you always want to comply with whatever the order is," Capt. Davidsaver said.
Police say they did the right thing. Just a half hour after the bank was held up. The suspect, 44 year old Eva Marie Fisher was found at the CVS Pharmacy, just west of the Super Saver. Police say the money was in her purse. There was no mention of a gun and no gun was uncovered. But Strasburger, a Super Saver regular says it was too close for comfort. "It's kinda scary because I live right over here. It's just weird to know that kind of stuff can happen so close to home," Strasburger said.
This isn't Fisher's first run in with the law. She served time at a Lancaster county jail, for the same crime in July of 2005. On that date, she robbed a US Bank in downtown Lincoln. Fisher handed the teller a hand–written note, and just like Monday she was located just blocks away with the cash in her purse.
As all this was going on it was business as usual for Super Saver. In fact, all of the customers coming out of the store had no idea what was happening. They only saw police cars outside. The bank was closed for a short time but reopened at around noon.