LPD, LFR and LPS hold school shooting training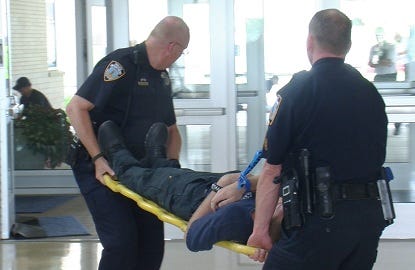 By: Cole Miller
cmiller@klkntv.com
There was some serious training going on today in Lincoln involving something we hope never happens.

The Lincoln Police Department, Lincoln Fire and Rescue and Lincoln Public Schools all joined forces today in a drill where a school shooting takes place. Their goal is to make sure everyone is ready in case a tragedy like this unfolds.

It's a radio dispatch no law enforcement officer wants to hear, that there's been a shooting at a school.
Shots ring out in the hallways of Kloefkorn Elementary in southeast Lincoln.
Multiple victims call for help, and some are severely injured. They've been shot and the gunmen has a hostage. Don't be alarmed, though, it's just a training exercise.
"This is obviously something we don't want to have to come to," Captain Joseph Wright with Lincoln Police said.
In this drill, there are 9 victims, including the hostage.

"They may have to make some life-saving decisions and see if they can get medical personnel to the injured in a safe manor," Wright said.
When medics arrive, they'll have to ask themselves a quick set of questions.
"Are they breathing? what's their level of consciousness? do they have a pulse?" Jeanne Pashalek with Lincoln Fire and Rescue said.
It's exercises like these where police officers and medics must work closely together.

"Joint training enables us to establish a unified command when both agencies respond to a particular type of incident," Pashalek said.
"They give the people who participate a kind of background knowledge that they know how to get to the right radio channel, they know who their go-to person is in a certain situation," Wright said.
With the victims out of the school, police take the gunmen into custody.
And while prevention is the number one priority, if this type of a need were to arise, these men and women stand ready.
"Life safety and protection of the public is both of our missions," Pashalek said.
Lincoln police also held a training exercise earlier today at Park Middle School. The focus of that drill was officer response.