Fake coin suspect pepper sprays victim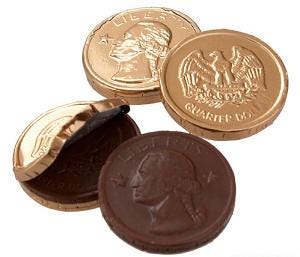 Lincoln police say they're looking for two suspects in a case involving fake gold coins.
Police say the victim, a coin collector, was contacted by a woman who was interested in selling him gold coins. Police say the woman and a man met the victim at a specified location to for the coin sale. The woman got into the victim's car to show him the coins. Police say she dropped one and the victim noticed they were fake chocolate gold coins.
Police say when he told the woman he wasn't interested she sprayed him with pepper spray. The victim shoved the woman out of his car. The coins turned out to be chocolate.
Police say they're looking for the suspects: The man is described as a white male in his late 20's with a goatee beard. The woman is described in her late 30's, medium length brown hair, facial acne. She was wearing glasses, blue jeans and a flannel jacket.