LPS approves early chrome books for elementary students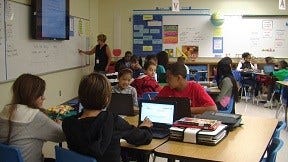 Posted By: Sarah Fili
sfili@klkntv.com
Lincoln Public Schools approved chrome books for younger kids. LPS set their 50 million dollar technology plan in motion this year, giving chrome books to sixth grade students and high school students at the new career academy and high school focus programs. Tuesday the school board voted to give third through fifth graders devices this year too earlier than expected.
"We are going to be rolling out those out several months early, several months ahead of schedule. For a couple of reasons, first to give them more time with the devices, to get comfortable with them and learning how to use them, but also we're going to be using the chrome books for assessments this year," Don Mayhew, a LPS board member, said.
It's all part of a multi-million dollar plan to get computers in the hands of students in grades three through 12. By 2016 they hope to have devices for seventh graders and students at Southeast and Northeast. In 2017, they'll go to eighth graders and students at the four remaining high schools along with tablets in k-2 classrooms. Finally by 2018 they'll begin a rotation of refreshing devices every three years.
"Students will have access to more information in the classroom. One of the things that we've talked about before is that technology, devices, they're not a replacement for high quality teaching for high quality education but they are tools to facilitate that education," Mayhew said.