LPS students take a break from school to go fly fishing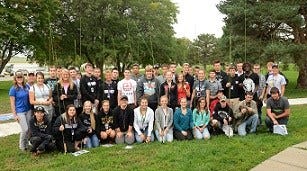 Posted by: Channel 8 Newsroom
Dozens of LPS High School students broke free of the classroom on Wednesday to go fly fishing.
They took part in a tournament at Holmes Lake, put on by the National Fishing in Schools Program, headquartered in Lincoln.
"We started it because we wanted to see kids getting outside, so we're using fishing as a tool to get more engaged," Katie Cole, NFSP, said.
Our very own Vanessa Brown was there as a volunteer instructor with Game and Parks.
The unique PE program teachers girls and boys how to fish at school. This was their first chance to put those skills to the test.
"I like it a lot. I like regular fishing a lot," Aspen Wight, Lincoln Northeast, said.
She almost caught a fish. "I'm mad that it fell off," she said.
Students who caught fish were very excited.
Others got tips casting their fly rods.