LPS students take a virtual field trip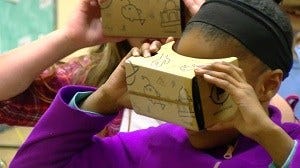 Posted by: Marlenia Thornton
mthornton@klkntv.com
Students at Campbell Elementary School got to take a unique field trip Friday.
They traveled around the globe without even leaving the classroom.
How?
A program called Google Expeditions, which is free to schools.
"It was fun to do it. It felt like you were actually there. It felt like real life," Campbell Elementary School 5th Grader Te'Yonna Brown said.
This is how it works: you put a cardboard viewfinder to your eyes , which is powered by a Google phone and then explore the world.
Third through fifth graders got to see places like the Congo, Mount Everest and Mars in 3D.
Some of the sights even took a few of them by surprise.
Google has more than 100 journeys that students can take.
The locations are chosen by the teacher and ran by this tablet.
"It was really cool and fun because like when you looked around saw different animals and people," Campbell Elementary School 5th Grader Nathan Brown said.
This is a first for LPS.
Computer science teacher Lisa Bohaty got the idea while browsing the internet, which is similar to how this young boy learned about the program.
He saw it on YouTube.
"They showed it in the camera and I wanted to use it, but today I used it, so my dream came true," Campbell Elementary School 3rd Grader Nathan Dang said.
Bohaty said she loved seeing how much fun the kids were having while learning.
She said this is another example of how technology can be an educational tool.
"Kids are more accessible to technology and now with our chrome books we can do so much more so this just adds a different layer of learning," Campbell Elementary School Computer Science Teacher Lisa Bohaty said.
The Google Expeditions program has been used in schools nationwide and abroad.