UPDATE: LSO may have found car connected to Gabe Wilken crash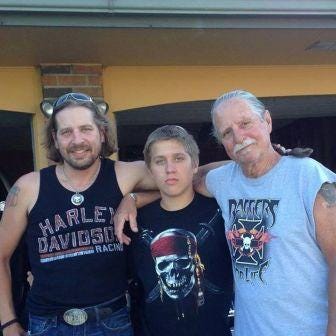 By: Lauren Fabrizi
lfabrizi@klkntv.com
Lancaster County Sheriff's deputies believe they may have found a car connected to the crash that killed motorcycle rider Gabe Wilken on January 16.
A recent Crimestoppers report lead the Sheriff's Office to a maroon Honda Accord.
"We contacted the owner of that vehicle," Sheriff Terry Wagner said. "A subsequent examination of that vehicle reveals that we do believe that vehicle drug Wilken's body from the scene of the crash to where his body was located on W. O at about N.W. 27th Street."
Authorities believe Wilken left the pavement near I-80 and N.W. 48th Street. They said he laid his motorcycle down and became separated from his bike. They believe that's when at least one car hit him.
Wagner said the driver of the maroon Honda thought he hit something, but didn't think it was a person. Authorities don't believe he was drinking or speeding.
"When the reports of a white pickup came out, he was convinced he did not hit Wilken because we were looking for a white pickup," Wagner said.
After examining nearly 70 white pick-ups and interviewing more than 150 people, deputies have ruled out a white pick-up truck but are still looking for a dark colored van with a ladder they believe may have been involved.
The driver of the Honda has not been cited at this time. Wagner said he is cooperating.
"At this point, there's no evidence to support any kind of charges," Wagner said.
Gabe's parents told Channel 8 Eyewitness News they've tried to begin the healing process but can't. With so many unanswered questions, they said it's an open wound that hasn't brought any closure.
The investigation is still active. Authorities are awaiting forensic examinations and autopsy results. They're asking witnesses to come forward. If you have any information, call the Sheriff's Office at 441–6500.
———————————————————————————————
Posted By: KLKN Newsroom
8@klkntv.com
From the Lancaster County Sheriff's Office:
Lancaster County Sheriff's Investigators continue to follow up on leads from the public regarding this crash that occurred January 16, 2015. To date, 67 vehicles have been examined, 157 people have been interviewed, 33 different deputies have investigated 121 individual tips, 144 case reports have been completed and 9 separate Law Enforcement agencies have assisted.
The investigation has revealed Wilken's motorcycle left the paved portion of NW 48th street as he was northbound. He laid the motorcycle down after leaving the roadway and became separated from his motorcycle ending up in the southbound traffic lane. The 4-lane divided roadway was reduced to two lanes because of the road construction in that area. Wilken was struck by at least one southbound vehicle.
A recent Crime Stoppers report provided information that a maroon Honda Accord may be involved in this case. A search warrant and subsequent examination of that Honda yielded evidence that suggests this may be the vehicle that drug Wilken's body from the scene to where it came to rest on West 'O' street. Forensic examinations are being done to determine if this may be one of the vehicles involved. The driver of the Honda is cooperating with investigators and has not been cited for any violations.
Investigators have received over a hundred tips from the public. Many of them have focused on the white pickup truck that witnesses initially described as leaving the scene in a suspicious manner from where Wilken's body came to rest on West 'O'. No evidence has been discovered to link a white pickup to the initial crash on NW 48th street. Other information received was that a dark colored van with a ladder on the rear doors may have been at the initial scene immediately after the crash occurred. This vehicle has not been located. Persons who may have witnessed the crash or have information about the crash are still asked to contact the Sheriff's Office if they have not already been interviewed.
The final autopsy and toxicology results have not been received.