Lyft facing hurdles in Nebraska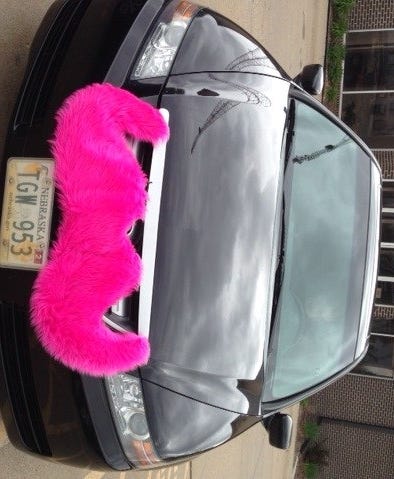 Posted By: Camila Orti
corti@klkntv.com
The pink mustaches are still under fire.
Vehicles donning a pink mustache, belonging to Lyft drivers, have been popping up in Lincoln and Omaha over the last week. Lyft is similar to a taxi service, except drivers use their personal vehicles and payment is made through a phone app.
"Every time someone gets in the car, I feel like we instantly bond, you fist bump with someone and we're on our way," local Lyft driver Marty Pike said.
But the San Francisco-based company is facing scrutiny from the Public Service Commission.
"The Commission has very serious concerns regarding the safety and the adequate protection of the general public," PSC Transportation Director Mark Breiner said.
Breiner says the company is violating Nebraska law by not getting permission to operate.
"If you're providing transportation for hire to the general public you have to have commission authority," Breiner said.
It's the same kind of certification taxi and limousine services apply for.
Breiner says his main concern is insurance, and that a driver's personal insurance wouldn't cover them or their passenger if an accident were to happen. The Nebraska Departments of Insurance and Motor Vehicles even issued a consumer alert earlier this week, warning riders and drivers to take caution.
Lyft representatives aren't worried, saying they are covered.
"There are a number of coverages that we provide with drivers so they can have piece of mind and know that it'll kick in the case that it needs to," Lyft spokesperson Paige Thelen said.
Thelen also added the company doesn't fall into the same category as a normal cab or taxi service, and is therefore exempt from Nebraska's statute.
The company will be offering free rides in Lincoln for at least another week. Breiner says if the company doesn't work out its differences with the Commission, law enforcement could start ticketing drivers.
Lyft will continue to offer free rides in Lincoln for another week. For more information, click here.