Magic Moments, Day 1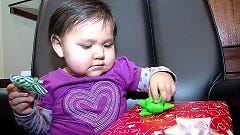 By: Jenn Hatcher
jhatcher@klkntv.com
Each year Union Banks brings Lincoln, "Magic Moments."
Wednesday, Mema Grant and her family opened gifts.
Grant's family is one of ten families Union Bank is helping this year.
"Christmas was going to be delayed a few months," Grant frets.
Grant is a single mother of three.
The two oldest she adopted, from a sister with drug issues.
"I've had them since they were kids, babies," says Grant.
Until August, Grant was employed through the AmeriCorps program.
Now, she only works part-time and is going back to school.
Gifts were going to be limited this year.
A family friend, Kelly Rook nominated Grant and her kids for Magic Moments.
"I totally choked back tears. It was a really special moment. Just to see them so excited and surprised, it was really cool," says rook.
Grant adds, "It's really cool to be able to see them get stuff that they know I couldn't get them and I know I couldn't get them."
The gifts included a TV, a zoo and children's museum membership and some essentials, like socks and shoes.
"It makes me feel really special, honestly," says Grants daughter, Dyani.
It was a special moment, for a special family.
Channel 8 is proud to be partners with union bank on this project.
We'll be sharing the full stories the next week and a half, every weekday night, at 10.