Majority of homes in Beaver Crossing damaged after storm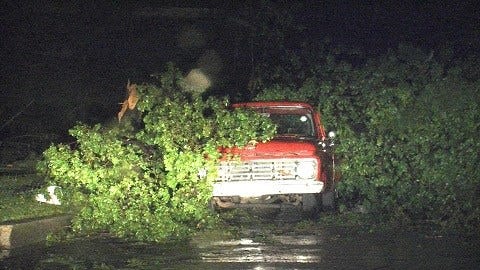 By: Jenn Schanz
jschanz@klkntv.com
Mother's Day in southeast Nebraska took a back seat to Mother Nature Sunday, after a tornado ripped through several areas, including Beaver Crossing, just west of Lincoln.
"We're all outside taking pictures and my Dad was like we should probably get in the basement. So we got down there and you could hear the hail and the rain and all of a sudden it just got quite," says Kelli Pankoke of Beaver Crossing. Her father's hardware store suffered severe damage from the storm.
Monday morning, the town of just over 400 people looks like a scene out of a disaster movie.
"A lot of houses just need roof repairs, and windows. A lot of the garages are gone, some of the houses are completely leveled," says Braxton Cunningham of Beaver Crossing.
Brianna Nisly lost her home, and spent the night at a storm shelter.
"It was destroyed, like.. there was nothing there," she says.
Fire officials say the tornado touched down around 5:30 Sunday night, and believe most of the damage was done in about 20 minutes. The road to get into town was blocked off for several hours.
"We got a family pet that's in the house. And we're trying to get in there to get it. But we're just waiting for them to open up and let us in," says Eric Clemens of Beaver Crossing.
"So unreal, it's a little down, Beaver. I never thought it would happen here…never. Yea, it's a nightmare," says Kelli and Megan Pankoke, as they survey the damage done to their father's store.
For now, makeshift storm shelters are helping those with no place else to go. Luckily, there were no reports of injuries. Town officials aren't sure of exact damages yet but say there's a lot of cleaning up to do.
Centennial High School in Utica has become a Red Cross storm shelter for those affected in Beaver Crossing, Cordova, and surrounding areas. They're located at 1301 Centennial Ave, Utica, NE 68456.
There is also a shelter at the Cordova Community Center, located at South 462 & Rokeby Road in Seward County.
For more information, or to find another location, click here: http://www.redcross.org/ne/omaha/about-us/locations