Man arrested after crashing car into home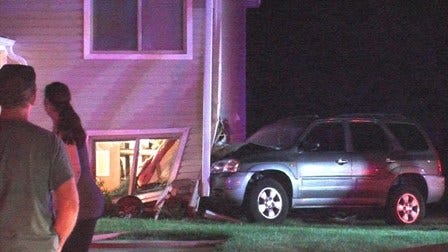 By: Hannah Paczkowski
hpaczkowski@klkntv.com
Tuesday night, a family is forced out of their home after a driver slammed into the side of their house. Police said 30-year-old Trevor Chief Bear was driving too fast on North 3rd Street, tried to make a turn, and slammed into the house on the corner of Fairfield and Park Lane. Police said Chief Bear made a run for it.
"A police K-9 was dispatched to the scene and officers located the suspect a short time and short distance later," Captain Jim Davidsaver said.
Chief Bear is arrested for a DUI, refusing to submit to a chemical test, driving under a suspended license, willful reckless driving, and leaving the scene of a property damage accident.
"There's some damage to some structural members on the house and it doesn't appear to be in danger of collapsing, however we're not going to have the house occupied until the owner has things fixed," Battalion Chief Tim Linke said.
Wednesday, debris from the crash still covers the side of the house. Construction crews are cleaning it up. Authorities estimate the damage to be around $35 thousand.
Jeff Koepke with BK Restoration and Remodeling said the structural corner of the house is damaged. They also said the car hit the main water service line, causing some water damage to the inside of the home.
"That's a little problematic because it's a little delicate to get the water turned back on," Koepke said.
Construction crews can't start working on the rest of the house until the water's back on. Thankfully, they said they're hoping to have that fixed by the end of the day.
"This is not the first one I've seen, believe it or not, it's pretty common, if you're in the restoration business, we see this quite often," Koepke said.