Tyler's run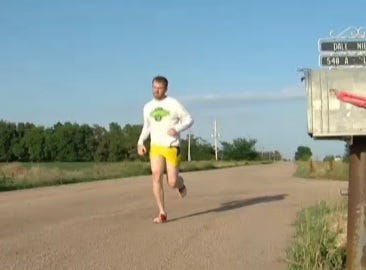 By: Kali Nicole
knicole@klkntv.com
Tyler Pool is pushing his limit, all the way from Western Nebraska to the very edge of Omaha.
For the first time in his life through the Air force and college, he's doing it for a reason. He's doing it for Trey, his youngest brother born with Usher Syndrome. It's a genetic disorder that begins with deafness and inevitably leads to blindness.
"Not having his hearing but then start losing another sense, with his eyesight, I can't even imagine how tough that would be for somebody. I really can't even put that into words," said Pool.
So instead he signs. "It's another way to communicate with each other, to grow with each other. I mean, it gave us a common bond with the signing." The other one he hopes to form is with you. "People are out there and want to jog along for a little bit, I'd be more than glad to have the company while I'm trekking along."
If you can't, he'd also gladly take donations. He's looking to raise $5,000 for Usher Syndrome Research. As much as the organization usually gets, in a month. A big goal he's taking across an even bigger state, all for the betterment of people like his brother.
"I mean if people can overcome two senses, I think I can trot across the state," he said.
Tyler's Run: Usher Syndrome Research
The Megan Foundation, http://www.meganfoundation.org/events
Donate via PayPal or send donations to:
The Megan Foundation
5319 Shaw Ave
Saint Louis, MO
68110
In the memo of all donations, please put: Tyler's run
Twitter: Poolie_Express
http://tylerrunsnebraskaforus.wordpress.com.