UPDATE: Arrest made in Friday morning's shooting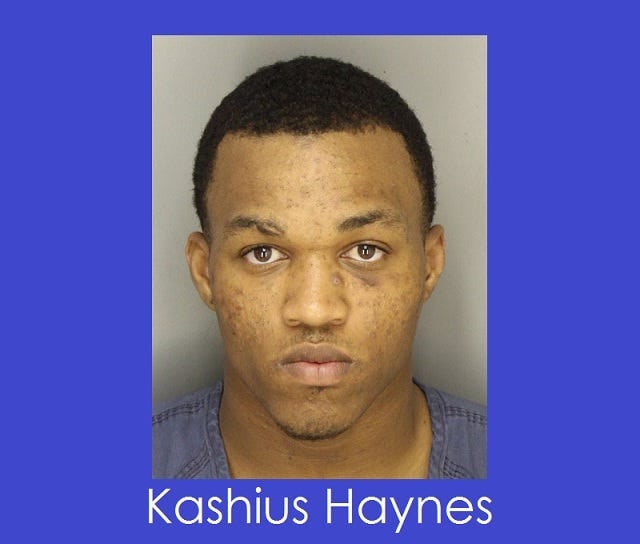 By: Lauren Fabrizi
lfabrizi@klkntv.com
UPDATE: Court documents released today reveal what lead up to the fatal shooting of Nathaniel Morton, Senior. According to the documents, officers arrived on the scene and found Morton lying on the floor of the living room at 1919 N. 29th St. He had been shot. One witness told police she saw and heard Morton and Kashius Haynes arguing over a gambling debt. She told police she saw Haynes pull a black gun out of his pocket and shoot Morton once. She says Haynes tried to shoot Morton a second time, but men in the room intervened and tried to wrestle the gun away from Haynes. Haynes fled the house.
Monday he was charged with murder in 2nd degree and using a firearm to commit a felony. He could face 20 years to life in prison if convicted. His bond is set at $1 million.
————————————————————————————–
An arrest has been made Saturday in connection with Lincoln's second homicide of the year.
"Just after 3 p.m. this afternoon, an individual the Lincoln Police Dept. had been seeking regarding the shooting death of Nathaniel Morton, which took place at 1919 N. 29th just after midnight on Friday morning, turned himself in at police headquarters," Capt.. Don Scheinost said.
Police have arrested Kashius Haynes, 21, on suspicion of 2nd degree murder.
Police said Haynes shot 38–year–old Nathaniel Morton, Sr. around midnight Friday after an argument and a fight broke out over a dice game.
It happened near 29th and Fair Streets. Police said a couple dozen people were there at the time.
Morton died at the hospital about a half hour later.
Those closest to Morton are still coping with their loss.
"All of us are very saddened," Janyss Vocasek, Morton's supervisor at work, said. "Very sad, very devastated."
Police aren't releasing a lot of information regarding Haynes' arrest, but said he was the main suspect they were looking for. It's possible other arrests could still be made.
"The Lincoln Police Dept. is continuing to interview individuals and gather evidence regarding this case," Scheinost said.
This is an ongoing investigation. Stick with Channel 8 Eyewitness News for updates.
—————————————————————————————————————
By: Channel 8 Newsroom
8@klkntv.com
Lincoln Police say they've made an arrest in the shooting death of Nathaniel Morton, Sr.
Capt. Don Scheinost says Kashius Haynes, 21, turned himself in shortly after 3:00 p.m., Saturday.
—————————————————————————————————————-
By: Jenn Schanz
jschanz@klkntv.com
A game of dice goes seriously wrong in north Lincoln Friday morning, when a dispute over a debt ends with a gunshot.
"I saw people, a lot of people outside and like screaming for help," says neighbor Aleigha Werner.
It happened near 29th and Fair just after midnight. Police say a couple dozen people were at a home in the area when they got a 911 call from a neighbor.
"There was some gambling, such as rolling dice that was occurring. An argument wound up breaking out that subsequently turned physical," says Chief Jim Peschong of the Lincoln Police Department.
According to police, that's when the party took a wrong turn, and 38–year–old Nathaniel Morton Sr. was shot.
"A gun was pulled out and Mr. Morton was shot once in the chest," says Chief Peschong.
Morton died at a hospital early Friday morning from his injuries.
Police say several people ran from the scene; they're still trying to connect the dots on how this all happened.
As for neighbors, they say the home hasn't been a source of chaos in the past. But given the shooting, they say they're on edge.
Steven Petersen, who lives nearby says, "It's usually very quiet, we've been here since August and never had anything happen. Yeah, it is a little scary. We always have our doors locked and everything, but we'll probably have to be more cautious."
This is the second homicide Lincoln's seen this year. Police are still investigating, and don't have any suspects yet. Anyone with information that could help is urged to call Lincoln Police at 402-441-6000 or Crime Stoppers at 402.475.3600.